Leading experts dedicated to win your case
MANAGING PARTNER
Car & Truck Accident Specialist

Angel L. Reyes, III began his legal career on Wall Street and ended up on main street representing injury victims across…

View Bio | Email
PARTNER
Car & Truck Accident Specialist

Board Certified (Personal Injury Trial Law) by the Texas Board of Legal Specialization, Spencer Browne has tried nearly 50…

View Bio | Email
PARTNER
Car & Truck Accident Specialist

Ryan Browne primarily focuses his practice on complex business litigation and personal injury cases. During his career…

View Bio | Email
PARTNER
Car & Truck Accident Specialist

Tim is Board Certified in Personal Injury Trial Law by the Texas Board of Legal Specialization. Tim was certified…

View Bio | Email
ATTORNEY & PRELITIGATION MANAGER
Car & Truck Accident Specialist

Steve "Dusty" Smith has been an attorney since 1990. He also served in the Military reaching the rank of Lieutenant Colonel.

View Bio | Email
ATTORNEY
Car & Truck Accident Specialist

Hussain obtained his J.D. in 2013 from the University of Houston Law Center after he earned his B.A. from Emory University.

View Bio | Email
ATTORNEY
Car & Truck Accident Specialist

Alex Ivanov graduated from Texas A&M School of law in Fort Worth with initial law degrees from Europe...

View Bio | Email
ATTORNEY
Car & Truck Accident Specialist

Nirvana Hoolooman obtained her JD from Southern Methodist University Dedman School of Law. During law schoo...

View Bio | Email
ATTORNEY
Car & Truck Accident Specialist

Derriyell Roberts White graduated from Louisiana State University with a B.A. in Political Science before receiving her....

View Bio | Email
ATTORNEY
Car & Truck Accident Specialist

Hamza Hussain graduated from University of New Orleans with a Bachelors in Business Administration before receiving...

View Bio | Email
ATTORNEY
Car & Truck Accident Specialist

Shawn has been practicing law in Texas for over 20 years and has spent most of his legal career concentrating on fighting...

View Bio | Email
If you have been injured in a car accident, you need an experienced car accident lawyer specialist to protect your rights against insurance companies dedicated to minimizing your claim and compensation!
Any distraction while driving is dangerous. However, our dependence on cell phones means that they can often demand our attention …
Child safety was probably one of your initial concerns when you learned you were going to be a parent. When …
Lane splitting by motorcycles is a common occurrence. How often have you sat in traffic and watched a motorcycle effortlessly …
NATIONALLY RECOGNIZED & AWARDED
Recognized for Excellence
RBR are regularly and consistently recognized through peer review and industry awards, including the national trial lawyers top 100. Fewer than 1% of U.S. lawyers are members of the Million Dollar Advocates Forum.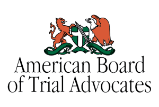 Scroll this way to see all our awards & accreditations