Leading experts dedicated to win your case
If you have been injured in a car accident, you need an experienced car accident lawyer specialist to protect your rights against insurance companies dedicated to minimizing your claim and compensation!
We're a personal injury law firm, and we know firsthand how expensive it can be to treat trauma injuries. When …
The National Highway Traffic Safety Administration released a statement earlier this week estimating that a total of 42,915 people have …
A federal grand jury in Midland indicted Odessa-based Aghorn Operating Incorporated and Aghorn Vice President Trent Day on nine counts …
NATIONALLY RECOGNIZED & AWARDED
Recognized for Excellence
RBR are regularly and consistently recognized through peer review and industry awards, including the national trial lawyers top 100. Fewer than 1% of U.S. lawyers are members of the Million Dollar Advocates Forum.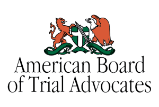 Scroll this way to see all our awards & accreditations